How To Make Pozole Verde
---
Today I am Feasting with… Saint José Luis Sánchez del Río.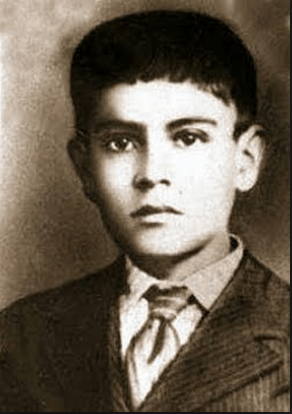 To celebrate his feast day, I'm making Pozole Verde. A traditional Mexican dish.
---
This page contains affiliate links. If you choose to purchase after clicking a link, we may receive a commission at no extra cost to you.
What price would you pay for freedom? In the exhilarating action epic For Greater Glory an impassioned group of men and women each make the decision to risk it all for family, faith, and the very future of their country, as the film's adventure unfolds against the long-hidden, true story of the 1920s Cristero War -the daring people's revolt that rocked 20th Century North America.
---
José Luis Sánchez del Río
José Sánchez was born on March 28, 1913, in Sahuayo, Mexico. He was the third child out of four. José was baptized in the church of St. James the Apostle and his godfather was Rafael Picazo Sánchez.
José was twelve years old when the Cristero Wars began in Mexico. He longed to fight for and defend the Catholic faith from the atheist Mexican government.
Unfortunately, José was still to young to join the fight. Instead, he and his family prayed the rosary daily and, despite the dangers, continued receiving Holy Communion.
Flag Bearer
When José turned fourteen he begged his mother to allow him to join the war saying, "Mama, do not let me lose the opportunity to gain Heaven so easily and so soon." He eventually was allowed to join the war as a flag bearer.
During a battle, General Guízar Morfín's horse was killed, endangering the general of being captured. José offered his own horse to the general, insisting Morfín was more important to the cause than José was.
The general managed to escape, but José was captured by the Mexican government. José was imprisoned in the abandoned church of St. James the Apostle.
¡Viva Cristo Rey!
The Mexican government tried to get José to deny his faith and reject the Cristero cause, but José bravely refused to do so.
It was José's own godfather, Rafael Picazo Sánchez, who ordered José's execution. The soldiers seized José, cut the bottom of his feet, and forced him to walk barefoot to the cemetery of Sahuayo.
At the cemetery, the general of the guard offered José one more chance to deny his faith. José responded with, "¡Viva Cristo Rey y Santa Maria de Guadalupe!" which translates to, "Live Christ King and Saint Mary of Guadalupe."
Furious, the general ordered his soldiers to stab José with their bayonets. As a last act of defiance, José dipped his finger in his blood, drew a cross in the dirt, and kissed the bloody cross. The general pulled out his pistol, and at point-blank range, sent the martyr into the arms of his Savior.
Saint José Luis Sánchez del Río
José died on February 10, 1928, at 11:30 pm. Just one month before his fifteenth birthday.
Saint José's Feast Day is February 10 and he is the patron of persecuted Christians, children, adolescents, and Sahuayo.
Saint José Luis Sánchez del Río, pray for us!
---
Download Pozole Verde Recipe
*Note: You must be logged in to save the recipe.
---
Ingredients:
1 small Onion, sliced into wedges
2 Garlic Cloves, peeled
2 Jalapeños, seeded
1 pound Tomatillos, husked and cut into quarters
½ bunch (1 to 1 ½ ounces) Cilantro, bottom stems trimmed and discarded
¼ cup roasted Pepitas (shelled Pumpkin Seeds)
1 teaspoon dried Oregano
½ teaspoon ground Cumin
¾ teaspoon Salt
2 ½ cups Chicken Broth, divided
2 tablespoons Olive Oil
1 (15.5 ounce) can Hominy, drained
1 ½ pounds boneless Pork Loin, trimmed of excess fat and cut into 1-inch pieces
For Serving / Garnish
2 cups shredded Green Cabbage
1 cup Queso Cotija, shredded
1 bunch Radishes, sliced
2 Limes, cut into wedges
---
Preparation Instructions:
In a blender, combine onion, garlic, jalapeños, tomatillos, cilantro, pepitas, spices, and salt.
Add a half cup of the broth and blend until smooth, about 30 seconds.
In an Instapot, sauté the puréed blend by heating the oil in the pressure cooker on its 'Sauté' setting for 2 minutes.
Add puréed mixture and cook, stirring often, for about 5 minutes, until slightly darkened in color.
Stir in hominy, pork, and remaining two cups of broth.
Secure the lid in its sealed position.
Cancel the 'Sauté' program, then select your pressure cooker's 'Manual' setting for 30 minutes at high pressure.
(It will take approximately 15 minutes for the pot to come up to pressure before the cooking cycle begins.)
While the posole is cooking, go ahead and shred the cabbage, slice the radishes, and cut the limes into wedges.
When the cooking cycle ends, let the pressure release naturally for at least 15 minutes, then move the lid to its 'Venting' position to release the rest of the steam.
Carefully open the pot.
*If there is a lot of fat on top of the pozole, use a ladle to skim it off.
Taste for seasoning, adding more salt if needed.
Ladle the pozole into bowls.
Top each bowl with a bit of shredded cabbage, queso cotija, and radish.
Serve with lime wedges on the side.