How To Make Crab Cakes
---
Today we are feasting with… Saint Elizabeth Ann Seton.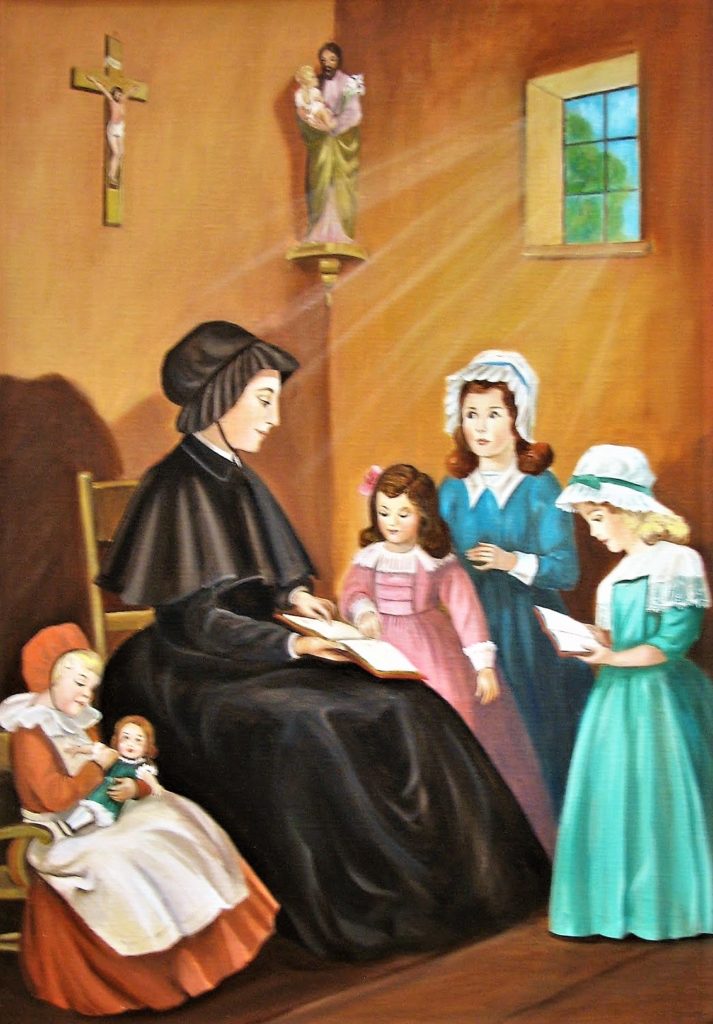 To celebrate we made traditional New England Crab Cakes. This recipe is quick and easy, yet makes a classically suitable presentation.
---
Elizabeth's Early Life
Saint Elizabeth Ann Seton was born on August 28, 1774 in New York City to Dr. Richard Bayley, a wealthy surgeon, and Catherine Charlton. Elizabeth and her older sister, Catherine Seton, were raised in a devout Episcopalian home. Elizabeth's mother passed away in the year 1777, just three years after she was born.
Elizabeth's father gave her most of her education at home. She was fluent in French, a good musician, and an accomplished horsewoman. Elizabeth greatly enjoyed the outdoors, music, and reading. She especially love reading from the Bible, and her favorite prayer was Psalm 23. Doctor Bayley met Charlotte Barclay and eventually married her. Together they had five children, but unfortunately their marriage ended in divorce. After the breakup, Charlotte rejected Elizabeth and her sister. Dr. Bayley moved to London to further his medical studies, leaving Elizabeth and Catherine with their uncle William and his wife Sarah. 
Tragedy Strikes
On January 25, 1794, nineteen year old Elizabeth married a twenty-five year old businessman named William Magee Seton. One year later they had their first child, Anna Maria. Later came William II, Richard, Catherine, and Rebecca Mary.
In 1798, tragedy struck. William Seton's father died leaving the young couple with William's seven younger siblings. Then William's business failed, the family went bankrupt, and they lost their house. The stress and anxiety caused William's health to fail and he contracted tuberculosis.
William, Elizabeth, and Anna Maria moved to Italy, hoping the warm climate would help William get better. Elizabeth's sister-in-law took care of Elizabeth's other four children while the rest of the family was in Italy. During their stay in Italy, the Setons lived with the Filicchi's who were a devout Catholic family. The Filicchi's Catholic faith greatly contributed to Elizabeth's eventual conversion. Unfortunately, William died on December 27, 1803. Shortly after his death, Elizabeth and Anna Maria moved back to New York. Once home, Elizabeth converted to the Catholic faith. She was baptized on March 14, 1805, and Confirmed just one year later.
Elizabeth Starts Teaching
In order to provide for her family Elizabeth taught at a small school. However, when word got out that Elizabeth was a Catholic, most of the parents pulled their children out of the school. In 1808, Fr. Louis William Dubourg offered Elizabeth an opportunity to start a Catholic school for girls. Elizabeth accepted the offer and moved to Emmitsburg, Maryland.
Mother Seton
The new teaching opportunity was at St. Joseph's Academy and Free School. This school was the first free Catholic school in America. It was during this time that Elizabeth also founded the Sisters of Charity of Saint Joseph. She took the vows of obedience, poverty, and chastity; and she became known as Mother Seton. Mother Seton taught the poor girls of the parish and often tended to her sick neighbors. She did all this while continuing to raise her own children.  
On January 4, 1821, Mother Seton died from tuberculosis. She was only forty-six years old. Her remains are located in the National Shrine of Saint Elizabeth Ann Seton, in Emmitsburg, Maryland. After her death, her charities began to spread all over North America. Mother Seton was Beatified by Pope John XXIII on March 17, 1963. Twelve years later, on September 14, 1975, Pope Paul VI canonized Saint Elizabeth Ann Seton.
Saint Elizabeth Ann Seton is the patroness of Catholic schools, widows, and seafarers.
Saint Elizabeth Ann Seton, pray for us!
---
American Catholic History
Listen to the episode of Saint Elizabeth Ann Seton from our friends at American Catholic History!
---
How to make Crab Cakes