How To Make Challah Rolls
---
Today we are feasting with… Saint Joseph.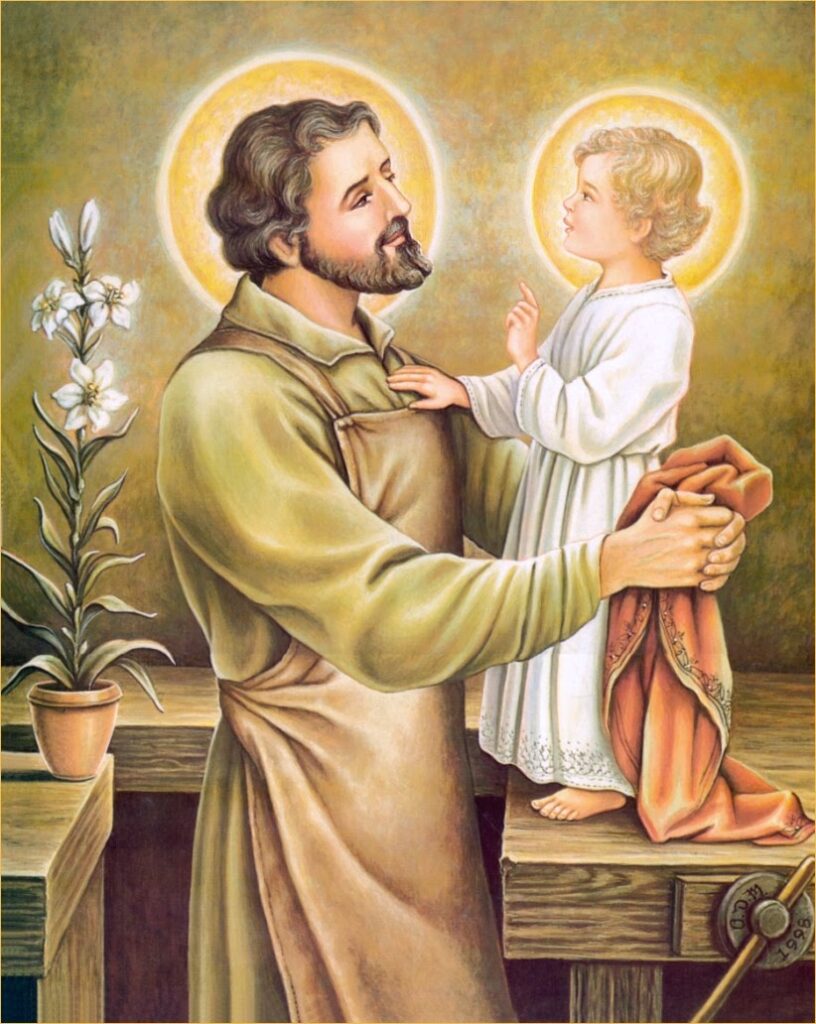 Challah is a bread of celebration in the Jewish tradition. We made this recipe in honor of Saint Joseph's Jewish heritage, and because bread is commonly found among the offerings at many 'Joseph's Table' celebrations.
This page contains affiliate links. If you choose to purchase after clicking a link, we may receive a commission at no extra cost to you.
Begin your Consecration to St. Joseph today!
---
Noble Offspring of David
The espousals between Joseph and Mary are an episode of great importance. Joseph was of the royal line of David and, in virtue of his marriage to Mary, would confer on the Son of the Virgin – on God's Son – the legal title of "Son of David," thus fulfilling the prophecies.
-Pope Benedict XVI
Light of Patriarchs
Picture to yourself the sanctity of all the patriarchs of old, that long line of successive generations which is the mysterious ladder of Jacob, culminating in the person of the Son of God. See how great was the faith of Abraham, the obedience of Isaac, the courage of David, the wisdom of Solomon. After you have formed the highest opinion of these saints, remember that Joseph is at the top of the ladder, at the head of the saints, the kings, the prophets, the patriarchs, that he is more faithful than Abraham, more obedient than Isaac, more generous than David, wiser than Solomon, in a word, as superior in grace as he is close to the source, Jesus sleeping in his arms.
-Blessed William Joseph Chaminade
Spouse of the Mother of God
Saint Joseph was the spouse of Mary. In the same way, each father sees himself entrusted with the mystery of womanhood through his own wife. Dear fathers, like St. Joseph, respect and love your spouse; and by your love and your wise presence, lead your children to God.
-Pope Benedict XVI
Chaste Guardian of the Virgin
Joseph, the just man, is appointed to be the steward of the mysteries of God, the paterfamilias and guardian of the sanctuary, which is Mary the bride and the Logos in her. He [Joseph] thus becomes the icon of the bishop, to whom the bride is betrothed; she is not at his disposal but under his protection.
-Pope Benedict XVI
Foster-Father of the Son of God
Saint Joseph's dignity springs from his privilege of being the legal father of the Incarnate Son of God. Here, then, is a man whom the Son of God calls father, one whom he [Jesus] serves and obeys and before whom he kneels for a paternal blessing.
-St. Peter Julian Eymard
Zealous Defender of Christ
He [St. Joseph] protects those who revere him and accompanies them on their journey through this life – just as he protected and accompanied Jesus when he was growing up.
-St. Josemaría Escrivá
Head of the Holy Family
Dear Brothers and Sisters, the sacrament which unites you to each other, unites you in Christ! It unites you with Christ! "This mystery is a profound one!" (Eph 5:32). He comes to you and is present in your midst and dwells in your souls. In your families! In your homes! Saint Joseph was well aware of this. For this reason he did not hesitate to entrust himself and his family to God. By virtue of this trust he completely fulfilled his mission, entrusted to him by God for the sake of Mary and his son. Supported by the example and protection of St. Joseph, offer a constant witness of devotion and generosity.
-St. John Paul II
Joseph Most Just
St Joseph was an ordinary sort of man on whom God relied to do great things. He did exactly what the Lord wanted him to do, in each and every event that went to make up his life. That is why Scripture praises Joseph as "a just man." And in Hebrew a just man means a good and faithful servant of God, someone who fulfills the divine will, or who is honorable and charitable toward his neighbor. So a just man is someone who loves God and proves his love by keeping God's commandments and directing his whole life toward the service of his brothers, his fellow men.
-St. Josemaría Escrivá
Joseph Most Chaste
Who can ever understand how great he [St. Joseph] had to be in this virtue of virginity who was destined by the Eternal Father to be the guardian, or rather the companion, of Mary's virginity?
-St. Francis de Sales
Joseph Most Prudent
Saint Joseph teaches us that prudence is correct knowledge about things to be done or, more broadly, the knowledge of things that ought to be done and of things that should be avoided.
-Servant of God John A. Hardon
Joseph Most Courageous
O Joseph, virgin father of Jesus, most pure spouse of the Virgin Mary, pray for us daily to the Son of God, that, armed with the weapons of his grace, we may fight as we ought in life, and be crowned by him in death.
-St. Bernardine of Siena
Joseph Most Obedient
If you want to know St. Joseph's obedience, look at how he rose at night at the angel's voice and, giving no care to hunger, hardships, or cold, went to Egypt where he led a hard life until the next command of God.
-St. Joseph Sebastian Pelzcar
Joseph Most Faithful
It is precisely the intrepid faith of St. Joseph that the Church needs today in order to courageously dedicate herself to the urgent task of the new evangelization.
-St. John Paul II
Mirror of Patience
This flower of Israel [St. Joseph] had the faith of Abraham, the piety of David his ancestor, the wisdom of the prophets, a patience more heroic than that of Job and of Tobias, and a zeal greater than that of Elijah for the glory of God.
-Blessed Gabriele Allegra
Lover of Poverty
Truly, I doubt not that the angels, wondering and adoring, came thronging in countless multitudes to that poor workshop to admire the humility of him who guarded that dear and divine child, and labored at his carpenter's trade to support the son and the mother who were committed to his care.
-St. Francis de Sales
Model of Workmen
He [St. Joseph] belongs to the working-class, and he bore the burdens of poverty for himself and the Holy Family, whose tender and vigilant head he was.
-Pope Pius XI
Glory of Domestic Life
Joseph loved Jesus as a father loves his son and showed his love by giving him the best he had.
-St. Josemaría Escrivá
Guardian of Virgins
Remember, O most chaste spouse of the Virgin Mary, that never was it known that anyone who fled to thy protection, implored thy help, or sought thy intercession was left unaided. Inspired by this confidence, I fly unto you, my spiritual father, and beg your protection. O foster father of the Redeemer, despise not my petitions, but in your goodness hear and answer me. Amen.
-Memorare to St. Joseph
Pillar of Families
Those who are devoted to prayer should, in a special manner, cherish devotion to St. Joseph. I know not how anyone can ponder on the sufferings, trials, and tribulations the Queen of Angels endured whilst caring for Jesus in his childhood, without at the same time thanking St. Joseph for the services he rendered the Divine Child and his Blessed Mother.
-St. Teresa of Avila
Comfort of the Afflicted
If discouragement overwhelms you, think of the faith of Joseph; if anxiety has its grip on you, think of the hope of Joseph; if exasperation or hatred seizes you, think of the love of Joseph, who was the first man to set eyes on the human face of God in the person of the Infant conceived by the Holy Spirit in the womb of the Virgin Mary. Let us praise and thank Christ for having drawn so close to us, and for giving us Joseph as an example and model of love.
-Pope Benedict XVI
Hope of the Sick
I went up to my room, I knelt at the feet of St. Joseph, and I asked him for the grace of healing for the little one, while resigning myself to God's will. I do not often cry, but I was crying as I prayed. I didn't know if I should go downstairs. In the end, I decided to go down, and what did I see? The baby was nursing vigorously. She did not let go until 1 p.m. She spit up a bit and fell back as though dead on her wet nurse. There were five of us around her. Everyone was stunned. There was a worker who was crying; I felt my blood run cold. The baby had no visible breath. It did no good for us to lean over to try and discover a sign of life because we could see nothing. But she was so calm, so peaceful, that I thanked God for having her die so gently. Then a quarter of an hour went by, and my little Thérèse opened her eyes and started to smile.
-St. Zélie Martin
Patron of the Dying
He [you] will beg of him [St. Joseph] the grace of dying as he himself did, with the kiss of Jesus and in the arms of Mary.
-Blessed William Joseph Chaminade
Terror of Demons
Evil spirits are terrified of St. Joseph because he alone is the spouse of the Immaculata and the father of Jesus Christ. Saint Joseph is the gateway to Jesus and Mary. Everything that touches him becomes a relic. He saved the Savior from Herod, spent decades in adoration, exercised paternal authority over Jesus, and made it possible for Jesus and Mary to offer their sacrifice on Calvary. Demons have plenty to be afraid of in the person of St. Joseph. He is mighty!
-Donald H. Calloway, MIC
Protector of the Holy Church
The Church invokes St. Joseph as her Patron and Protector through her unshakable trust that he to whom Christ willed to confide the care and protection of his own frail human childhood, will continue from heaven to perform his protective task in order to guide and defend the Mystical Body of Christ himself, which is always weak, always under attack, always in a state of peril.
-St. Pope Paul VI
He Made Him the Lord of His Household, and Prince Over All His Possessions
As Almighty God appointed Joseph, son of the patriarch Jacob, over all the land of Egypt to save grain for the people, so when the fullness of time was come and he was about to send on earth his only-begotten Son, the Savior of the world, he chose another Joseph of whom the first had been a type, and he made him the lord and chief of his household and possessions, the guardian of his choicest treasures.
-Blessed Pope Pius IX
---
Download Challah Rolls Recipe
*Note: You must be logged in to save the recipe.
---
Ingredients:
2 packages (4½ teaspoons) Rapid-Rise Dry Yeast
1 cup Warm Water
¼ cup Sugar
¼ cup Vegetable Oil
4 Egg Yolks
3¼ cups All-Purpose Flour
1¼ teaspoon Salt
1 Egg, lightly beaten, for egg wash
---
Preparation Instructions:
In a small bowl, combine the yeast and warm water. Stir gently and allow to rest in a warm spot for about 10 minutes, until foamy.
In a large bowl, combine the flour, salt, sugar, oil, egg yolks, and yeast mixture.
Stir with a wooden spoon until dough just comes together.
Turn the dough onto a lightly floured work surface, and knead for about 5 to 7 minutes, until it forms into a soft, smooth dough.
Form the dough into a ball and place it into a large greased bowl.
Rotate the dough to coat all sides.
Cover loosely with plastic wrap and allow to rest in a warm spot for 1 hour, or doubled in size.
Punch the dough down to deflate slightly, and allow to rest for another 45 minutes.
Turn out the dough on to a lightly floured work surface.
Knead a couple of times to reshape.
Cut into 16 equal-sized pieces.
Working with one piece at a time, roll the dough into a long rope.
Fold in half, twist it around itself to braid, and tuck the ends underneath. Continue until all pieces are braided.
Place the braided rolls onto a baking sheet lined with parchment.
Preheat the oven to 350°F.
Brush the rolls on the top and sides with the egg wash.
Bake for approximately 25 to 30 minutes or until golden brown.