How to make Crème Brûlée
---
Today I am feasting with… Saint Joan of Arc.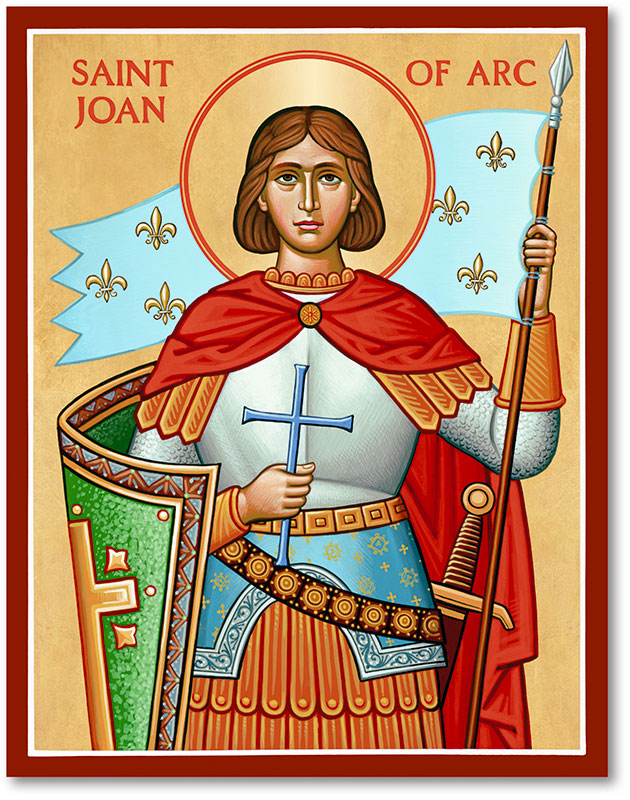 To celebrate her feast day, I'm making Crème Brûlée, a traditional French dessert. Making a Crème Brûlée can seem intimidating, but I hope these words from Saint Joan will inspire you to give it a try!
"I am not afraid. I was born to do this."
-Saint Joan of Arc
---
This page contains affiliate links. If you choose to purchase after clicking a link, we may receive a commission at no extra cost to you.
Joan of Arc is a riveting epic film of faith, inspiration, triumph, and tears. Born to a peasant French family, Joan hears the voices of saints calling out to her to unite her besieged nation.
---
The Life of Saint Joan
Joan was born in Domrémy, France, and is nicknamed "The Maid of Orléans". When she was thirteen years old, Saint Michael the Archangel, Saint Margaret, and Saint Catherine of Alexandria appeared to Joan, instructing her to help Charles VII free France from English domination.
On April 29th, 1429, Joan arrived in Orléans to help rally the French troops against the English. On May 8th, only 9 days later, the English retreated from Orléans and the battle was over.
Joan would go on to help the French win several battles before she was captured on May 23rd, 1430 in Margny, just north of Compiègne. After several escape attempts, the English moved Joan to the city of Rouen where she would stand trial for heresy and cross-dressing.
On May 30th, 1431, The English tied Joan to a tall pillar, set her on fire, and burned her to death. After she died, the English raked the coals to expose Joan's charred body to prove that she did not escape. Afterward, the English burned her body twice more to completely reduce it to ashes and prevent the collection of relics. Finally, the English dumped her remains in the Seine river.
Joan was nineteen years old when she died. Pope Benedict XV canonized Saint Joan of Arc on May 16th, in the year of our Lord, 1920. We celebrate her feast day on May 30th, and she is the patron saint of France and military personnel.
Saint Joan of Arc, pray for us!
---
Download Crème Brûlée Recipe
*Note: You must be logged in to save the recipe.
---
Ingredients:
6 Egg Yolks
4 Tablespoons White Sugar
1/2 teaspoon Vanilla Extract
2 1/2 cups Heavy Cream
2 Tablespoons Turbinado Sugar
---
Preparation Instructions:
Preheat oven to 375°F.
Beat egg yolks, 4 tablespoons white sugar, and vanilla extract in a mixing bowl until thick and creamy.
Pour cream into a saucepan and stir over low heat until it almost comes to a boil. Remove the cream from heat immediately.
Slowly, but continuously, whisk warmed cream into the egg yolk mixture until combined. Pour into a shallow heat-proof baking dish—or 6 individual ramekins.
Set ramekins on a rimmed baking sheet.
Next, set the sheet pan on the middle rack in the preheated oven.
Pour hot water in the dish so the water comes halfway up the sides of the ramekins.
Bake at 375°F for approximately 15 to 20 minutes. The custards should jiggle just slightly in the middle.
Remove from oven and let cool in the water bath for about 15 minutes, then remove and chill in the refrigerator for 2-3 hours.
When ready to serve, evenly sprinkle the top with turbinado sugar. Either, place dish under broiler until sugar browns, about 2 minutes— or carefully use a small butane torch to brûlée the sugar.
Serve immediately.