How to make Fresh Orange Scones
---
Today I am feasting with… Saint Thomas More!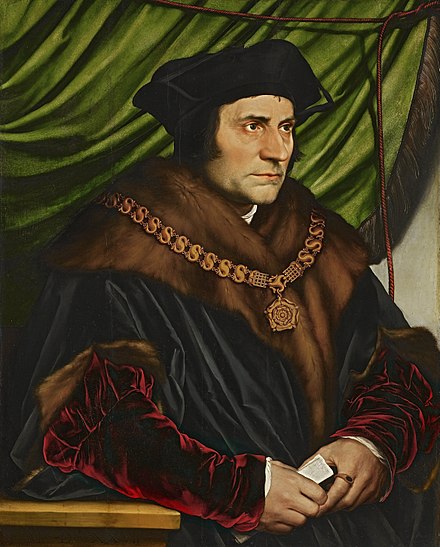 To celebrate his feast day, I'm making Fresh Orange Scones. These traditional English scones are cut into the shape of a Tudor Rose. Portraits of Saint Thomas More often depict him as wearing a Livery collar with the Tudor Rose in the center. I thought these delicious scones would be the perfect way to pay homage to Saint Thomas More.
---
This page contains affiliate links. If you choose to purchase after clicking a link, we may receive a commission at no extra cost to you.
A Man for all Seasons is the acclaimed Academy Award winning drama about the conflict between St.Thomas More and King Henry VIII which is filled with intrigue and courage.
---
The Life of Thomas More
Saint Thomas More was born in London, on February 7th, 1478. He went to college at Oxford in 1492, but his father wanted him to study law instead. Thomas completed his education at Lincoln's Inn before he went to bar.
In 1504, Thomas was elected to Parliament to represent the region of Great Yarmouth. Six years later, he would go on to represent London. Thomas More continued to rise through the ranks until King Henry VIII knighted him as Sir Thomas More. He later became the secretary and personal advisor to King Henry.
A Turn for the Worse
It is at this point in Thomas' life where things begin to change for the worse. King Henry VIII wanted to marry Anne Boleyn, but he had to separate from Catherine of Aragon first. In order to marry Anne Boleyn, King Henry petitioned the Pope, requesting an annulment from Catherine. The Pope found no merit with the King's request and refused to grant the annulment. This infuriated King Henry, so he separated from the Catholic Church and proclaimed himself Supreme Head of the Church of England. King Henry divorced Catherine of Aragon and married Anne Boleyn on January 25th, in the year of our Lord, 1533.
Sir Thomas More, being a devout Catholic, resigned from his post and refused to proclaim his allegiance to the Act of Succession. By signing the oath of the Act of Succession, Thomas More would be confirming King Henry's annulment from Catherine, Anne Boleyn's role as queen, and King Henry's self proclamation as head of the Church. Thomas refused to sign the oath, forcing King Henry to arrest him. The sentence for the crime was death by hanging, and to be drawn by horses until quartered. King Henry ended up commuting this sentence to execution by decapitation only.
The execution took place on July 6th, 1535. After Thomas More had finished reciting the Miserere, the executioner reportedly begged his pardon. Thomas rose up merrily from the chopping block, kissed the executioner, and gave him forgiveness.
Just before his execution, Sir Thomas More said the following:
"I am the king's good servant, but God's first!"

Saint Thomas More
Saint Thomas More's Feast Day is June 22nd. He is the patron saint of adopted children, civil servants, lawyers, politicians, and statesmen.
Saint Thomas More, pray for us!
---
Download Fresh Orange Scones Recipe
*Note: You must be logged in to save the recipe.
---
Ingredients:
Scones
1/3 cup Sugar
1 large Orange, zested
2 cups All-Purpose Flour
1 teaspoon Baking Powder
1/4 teaspoon Baking Soda
1/2 teaspoon Salt
1/2 cup Unsalted Butter, frozen
1/2 cup Sour Cream
1 large Egg
Glaze
3 Tablespoons Unsalted Butter, melted
1 cup Powdered Sugar
1/2 teaspoon Vanilla Extract
3 Tablespoons Orange Juice
---
Preparation Instructions:
Preheat oven to 400°F and set oven rack to the middle position. Line a baking sheet with parchment paper, set aside.
In a large bowl, stir sugar and orange zest together until moistened and zest is evenly distributed.
Next, add in flour, baking powder, baking soda and salt. Mix to incorporate.
Grate frozen butter into mixture, then using your hands, work in the butter until the mixture resembles a coarse meal. Separately, in a small bowl, whisk sour cream and egg until completely smooth.
Gently stir sour cream mixture into the flour mixture until just about combined. Try not to over work the dough. Gently press the dough against the sides of the bowl a few times and form a ball. The dough will be sticky at first but will come together as you form it.
Place dough on a lightly floured surface and lightly pat into an 8" circle about 3/4" thick. Use a sharp knife or cookie cutter to cut into your preferred shape.
Transfer onto prepared baking sheet—leaving about 1" between each one.
Bake scones for 15-17 minutes or until the tops begin to golden.
Allow them to cool for 10 minutes on the pan before transferring onto a wire rack to finish cooling completely.
During this time, prepare the glaze. Stir together melted butter, powdered sugar, vanilla and orange juice until smooth. Once completely cooled, either dip or drizzle the glaze atop the cooled scones.