Today we are feasting with… Saint Padre Pio.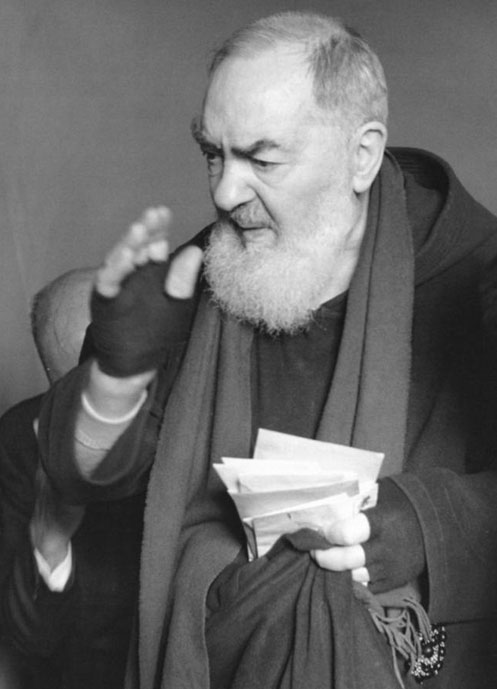 Throughout his life, different illnesses afflicted Padre Pio. The illness that afflicted him most was that he could not digest anything but milk and cheese! For this fact, we thought it fitting to make a Charcuterie board to celebrate the feast day of Saint Padre Pio.
---
Early Life
Francesco Forgione was born in Pietrelcina, Italy on May 25th, in the year of our Lord, 1887. Francesco grew up in a family of peasant farmers with an older brother and three younger sisters. He spent most of his days tending to the family's small flock of sheep and frequently attended Mass. The Forgione family were devout Catholics, and they often celebrated the feast days of Catholic Saints throughout the year. By the age of five, little Francesco made the decision to dedicate his life to God and he never strayed from that decision.
By the time he was ten years old, Franceso wished to leave the family farm and become a Capuchin friar. To his parent's credit, they accompanied young Francesco on a 13-mile journey to where the friars lived in Morcone, Italy. Upon arrival, the friars agreed to give Francesco an evaluation to see if he was eligible to enter the Order. After the evaluation, the friars determined that Francesco would need more education before he could join their community. To help Francesco prepare to enter the Capuchin order, his father traveled to America to find work. This enabled his father to send money back home to pay the cost of a private tutor.
Friar Pio
Five years passed before Francesco was finally able to enter the novitiate of the Capuchin friars. At the age of fifteen, Francesco took the simple vows of poverty, chastity, and obedience. He also chose the name of "Pio" in honor of Pope Pius I. However, after only two years of studying for the priesthood, Friar Pio became very ill and could only digest milk and cheese. His fellow friars tried to cure him with fresh mountain air, but ultimately Friar Pio was sent home to his family where he continued to study for the priesthood. Despite his illness, Friar Pio made his solemn profession of vows on January 27th, 1907.
Padre Pio
Three years later, in the year of our Lord 1910, Archbishop Paolo Schinosi ordained Friar Pio as a priest at the Cathedral of Benevento. Just four days later, Padre Pio offered his first Mass at the parish of Our Lady of the Angels. However, given his continued illness, Padre Pio was permitted to remain at home with his family until he was ordered to return to his Capuchin community on September 4th, 1916. For the rest of his life, he would live in the agricultural community of Our Lady of Grace Capuchin Friary located in the San Giovanni Rotondo.
Stigmata
Two years later, on September 20th, 1918, Padre Pio began to receive the stigmata. In a letter to his spiritual advisor, Padre Pio wrote the following:
"On the morning of the 20th of last month, in the choir, after I had celebrated Mass I yielded to a drowsiness similar to a sweet sleep. I saw before me a mysterious person similar to the one I had seen on the evening of 5 August. The only difference was that his hands and feet and side were dripping blood. This sight terrified me and what I felt at that moment is indescribable. I thought I should have died if the Lord had not intervened and strengthened my heart which was about to burst out of my chest. The vision disappeared and I became aware that my hands, feet and side were dripping blood.
Imagine the agony I experienced and continue to experience almost every day. The heart wound bleeds continually, especially from Thursday evening until Saturday. Dear Father, I am dying of pain because of the wounds and the resulting embarrassment I feel deep in my soul. I am afraid I shall bleed to death if the Lord does not hear my heartfelt supplication to relieve me of this condition. Will Jesus, who is so good, grant me this grace? Will he at least free me from the embarrassment caused by these outward signs
I will raise my voice and will not stop imploring him until in his mercy he takes away, not the wound or the pain, which is impossible since I wish to be inebriated with pain, but these outward signs which cause me such embarrassment and unbearable humiliation. The pain was so intense that I began to feel as if I were dying on the cross."
Bear False Witness
By 1919, news of Padre Pio's stigmata spread far and wide, and his popularity started to become a source of concern for the Church. Even Padre Pio himself was not comfortable with all the attention he was receiving from the stigmata. To quiet things down, the Vatican restricted Padre Pio's public encounters and opened an investigation into his stigmata. For over a decade, several priests investigated and wrote disparaging remarks about Padre Pio's stigmata in their reports to the Vatican. However, by 1934, the truth began to emerge that his stigmata were not fake. In fact, Pope Pius XI said:

"I have not been badly disposed toward Padre Pio, but I have been badly informed."
Exonerated
Pope Pius XI reversed Padre Pio's ban on public encounters and eventually, the Church dismissed all false accusations made against Padre Pio. After everything that Padre Pio experienced in life, it's easy to see where his famous advice for others came from.
Pray, hope, and don't worry.

Saint Padre Pio
Padre Pio died on September 23, 1968.
Pope John Paul II canonized Saint Padre Pio on June 16, 2002.
Saint Padre Pio is the patron of civil defense volunteers, adolescents, and the village of Pietrelcina.
Saint Padre Pio, pray for us.