How To Make Angel Food Cake with Blackberry Compote
---
Today we celebrate the feast of… Michaelmas.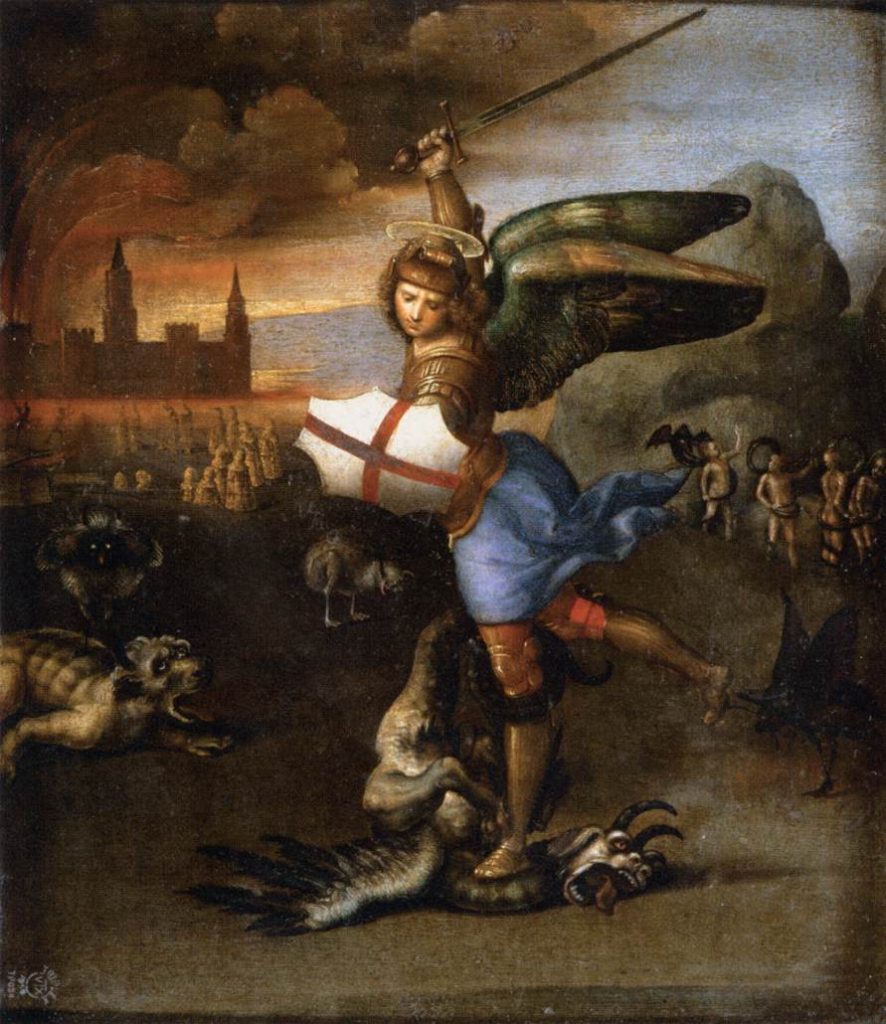 To celebrate Michaelmas, we are making Angel Food Cake with Blackberry Compote. There is a "rule" against eating blackberries after September 29, not due to seasonality, but from a story of Saint Michael the Archangel, for whom the day is named.
---
The Story of Saint Michael the Archangel
There are only three angels named in the bible and one of them is Saint Michael. The other two are Saint Gabriel and Saint Raphael. Saint Michael has the title of "Archangel" which is the highest class of all angels. He is also the leader of God's army.
There are four main responsibilities for Saint Michael that are found in both scripture and in Christian tradition.
The first is to combat Satan.
The second is to escort the faithful to heaven in their hour of death.
The third is to be a champion of all Christians, and the Church itself.
And the fourth is to call men from life on Earth to their heavenly judgment.
What we know from scripture is that Saint Michael defeated the angel Lucifer in a huge battle. Lucifer and his followers were banished from Heaven, and from that point on, Lucifer became known as Satan. This much we believe to be true.
The Legend of Saint Michael the Archangel
However, there is a legend in many cultures about Saint Michael and the harvesting of blackberries that we'd like to share on this feast day:
When Satan was cast down from Heaven, he bounced onto the floor of hell and landed in a blackberry bush. Upon falling into the thorny brambles, he became so angry that he scorched them with his fiery breath. He cursed and spat on the blackberries, making them bitter and unsuitable for eating. According to lore, from this point on, blackberries that are not harvested on or before Michaelmas, September 29th, become too sour to eat!
Though highly unlikely to be true, this story explains the use of blackberries in our Angel Food Cake with Blackberry Compote recipe.
Saint Michael is the patron saint of the military, police officers, firemen, death, and people who work in dangerous conditions.
---
A Prayer for Michaelmas
Saint Michael the Archangel,
defend us in battle;
be our protection against the wickedness and snares of the devil.
May God rebuke him, we humbly pray:
and do thou, O Prince of the heavenly host,
by the divine power of God, cast into hell Satan and all evil spirits
who prowl about the world seeking the ruin of souls.
Amen.
---
Download Angel Food Cake with Blackberry Compote Recipe
*Note: You must be logged in to save the recipe.
---
Ingredients:
1 ¾ cups Sugar
1 cup + 2 Tablespoons Cake Flour
¼ teaspoon Salt
12 large Egg Whites, at room temperature
1 ½ teaspoons Cream of Tartar
1 ½ teaspoons Vanilla Extract
Glaze:
2 cups Fresh OR Frozen Blackberries
¼ cup Sugar
1 teaspoon Lemon Zest
2 Tablespoons Lemon Juice
1 teaspoon Cornstarch
---
Preparation Instructions:
Adjust the oven rack to the lower middle position and preheat the oven to 325°F.
In a food processor or blender, pulse the sugar until fine and powdery. Remove 1 cup and set aside to use later; keep the rest inside the food processor. Add the cake flour and salt to the food processor. Pulse 5-10 times until sugar/flour/salt mixture is aerated and light.
In a large bowl using a hand mixer or a stand mixer fitted with a whisk attachment, whip egg whites and cream of tartar together on medium-low until foamy, approximately 1 minute.
Switch to medium-high and slowly add the remaining 1 cup of sugar. Whip until soft peaks form, approximately 5-6 minutes.
Add the vanilla extract, then beat just until incorporated.
In 3 additions, slowly sift the flour mixture into the egg white mixture using a fine mesh strainer, gently folding with a rubber spatula after each addition. Sift and very slowly fold.
Pour and spread batter into an ungreased 9 or 10 inch tube pan. Gently tap the pan on the counter to smooth down the surface.
Bake the cake until a toothpick inserted comes out clean, approximately 40-45 minutes. Rotate the pan halfway through baking time. The cake will rise up very tall while baking.
Remove from the oven, place upside down on a wire rack, and cool completely, about 3 hours. Once cooled, run a thin knife around the edges and gently tap the pan on the counter until the cake releases.
Add blackberries, sugar, lemon zest, lemon juice, and cornstarch to a medium pan. Bring to a simmer over low heat. Simmer for approximately 5 minutes until berries soften and the juices thicken slightly. Serve atop the angel food cake.